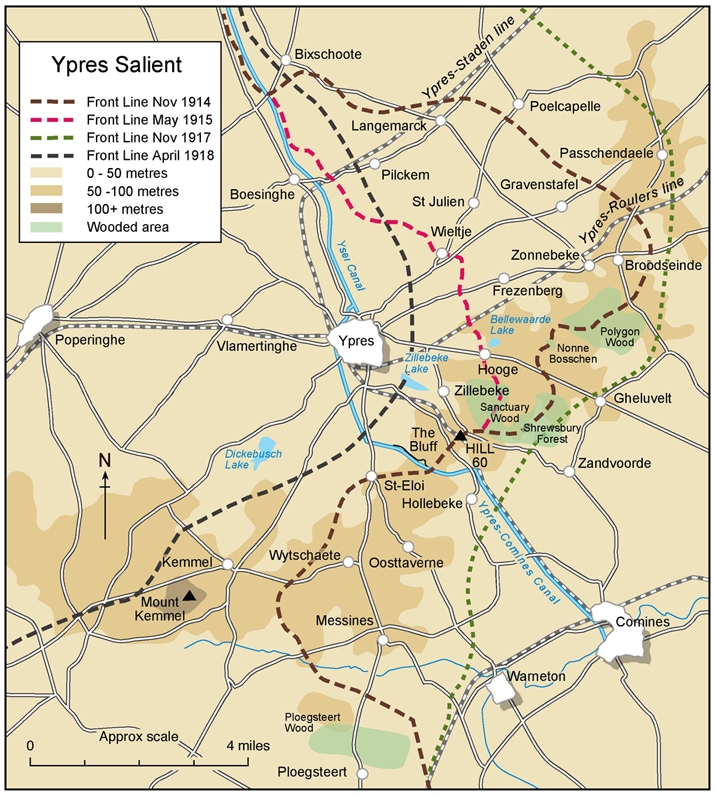 Map of the Ypres Salient 1914-1918.
Throughout the war, the German positions were on the right of the map and the British positions were on the left, including Ypres, which never fell to the Germans. Throughout most of the war the Germans held the higher ground (coloured light brown), although as the map indicated this "high ground" was a mere 50-100 m abouve sea-level.1
On 7th June 1917, the New Zealanders captured the village of Messines. They spent the next months between Messines and Ploegsteert Woods, attacking eastwards towards Warneton. In October, the Division moved north again and took part in the disastrous attempt to capture Passchendaele, where Arthur was wounded.
The New Zealand Division then spent a miserable winter around Ypres before being ordered south in March 1918.
---
References:
Ypres Salient map from the Commonwealth War Graves Commission site, The Ypres Salient